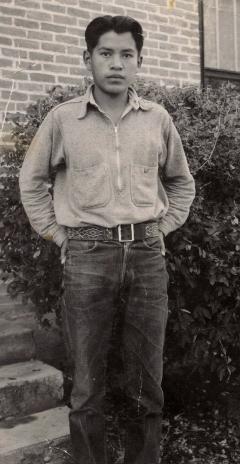 Navajo Methodist Mission School, Farmington, NM
Merril was a son of Julian Sandoval and Helen Smith. Born April 18, 1925 in a hogan somewhere near Kimbeto, NM. Merril's family raised sheep and most of the time resided near Nageezi, NM.
Merril is Naasht'e`zhi` Dine'e` (Zuni Clan) born for Tl'aaschi'I (The Red Cheek People Clan).
Marine recruiters
The Marines came to the Navajo Methodist Mission School looking to recruit Navajos.
Merril was a freshman in high school when the recruiters visited. He wanted to volunteer, but he was turned down because he was only 16 years old. His older brother, Samuel, left with the recruiters at this time.
When Merril's sophomore year came around, he was finally old enough to join.
"At first, my father was reluctant to let me go since Sam already left. He finally agreed to let me join. He told me...son, if you really think this is the right thing for you to do, then I'll sign the papers. "
The new recruits were taken by bus to Santa Fe where they completed their physicals and paperwork. Their next destination was San Diego by train.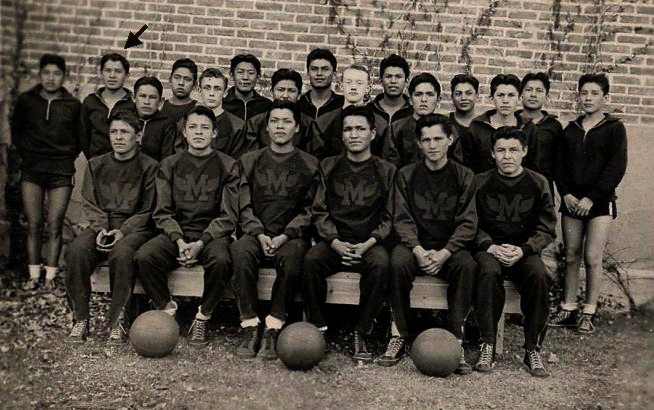 Farmington Mission Basketball Team, 1942.
After being discharged from the Marines in 1946, Merril returned to complete his high school education. He started his junior year at Sherman Institute in Riverside, CA., then graduated from Albuquerque Indian School. After high school, he became trained as a machinist at the Haskell Indian Vocational School in Lawrence, KS. Merril was a machinist for 15+ years in Kansas City and Phoenix. He later returned to the Navajo reservation and worked with a legal service agency as a legal advocate.