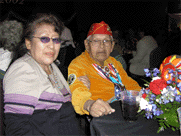 56 Years of Happiness
Merril and Lorraine would have celebrated their 57th Anniversary on July 27th, 2008. After the War, Merril returned to complete his High School education at Riverside Indian School in Riverside, California. This is where Merril and Lorraine reunited their friendship. They had known each other in previous years. It took a few more years of crossing paths again at Haskell Indian School in Lawrence, Kansas before Merril and Lorraine began to date. This was in 1949 when Lorraine was a senior in High School and Merril was attending trade school to learn the skills of a Machinist.
In 1951, Merril and Lorraine married.
My Best Career was raising my children
They have made me proud of their accomplishments.
Merril and Lorraine have 5 children. Two sons and three daughters.
Gary is a senior field service engineer, specialized in industrial process controls (boiler tuner). His occupation takes him all over the world.
Gerald (deceased) was well-regarded for his musical talent. He was often referred to as the Navajo Jimi Hendrix.
Jeannie is a software engineer, specialized in database design and development.
Sharon is a Family and Child Educator Specialist for the Navajo Nation.
Maxine's interests like her father is in Law and Criminal Justice.
In addition to 5 children, Merril and Lorraine have 17 grandchildren and 22 great-grandchildren, and 1 great-great-grandchild.